Dollar Tree Associates; My Doculivery system is a new way for Dollar tree employees to access their pay stubs online. It enables all employees to retrieve their current and historical pay stubs and year-end tax statements for 2018. On the other hand, E-Forms and direct deposit are now running in the previous ESS called Paperless Employee. In the Doculivery system, you can view and print your pay stubs and tax stub (W-2). Associates may also print their current pay stubs using a POS terminal.
If you are an employee of Family Dollar, click here for more information.
Access Pay Stubs & W2s Online
Use a computer or device that is connected to the internet; go to https://my.doculivery.com/DollarTree. This will bring you to the Doculivery system login page of Dollar Tree.
Enter your user ID and Password to log in to the system—[User ID; Hints- Associate ID, Password; most recent password]. Click on the login button.
If you are a first-time user, the initial password is your DOB in MMYY format and the last four SSN digits. For example, if your DOB is 01 Dec 1989, and the last four digits of your SSN are 6789, then your password is 12896789.
The first-time user will be prompted to select and provide the answer to five security questions, including what city you grew up in, the name of the best friend, the paper name of your hometown, the model of the first car, and who was childhood hero in the following steps. You have to click on the Save option to enable the next question after providing your answer.
Change your password. To change, enter your temporary password and then the new password of your choice. Once you have adjusted your password, you will be on your dashboard. Your dashboard looks like the following picture.
To view your pay stubs, click on the Pay Stubs tab, then click on to view icon. Then you can download them in pdf format or email your pay stubs with or without a password.
To view your W2s, click on the W-2 tab, then click on to view icon. Then it will be downloaded as a password-protected PDF file. You must use your SSN without dashes as a password to open the W2 Forms.
Please don't leave your account without logging out.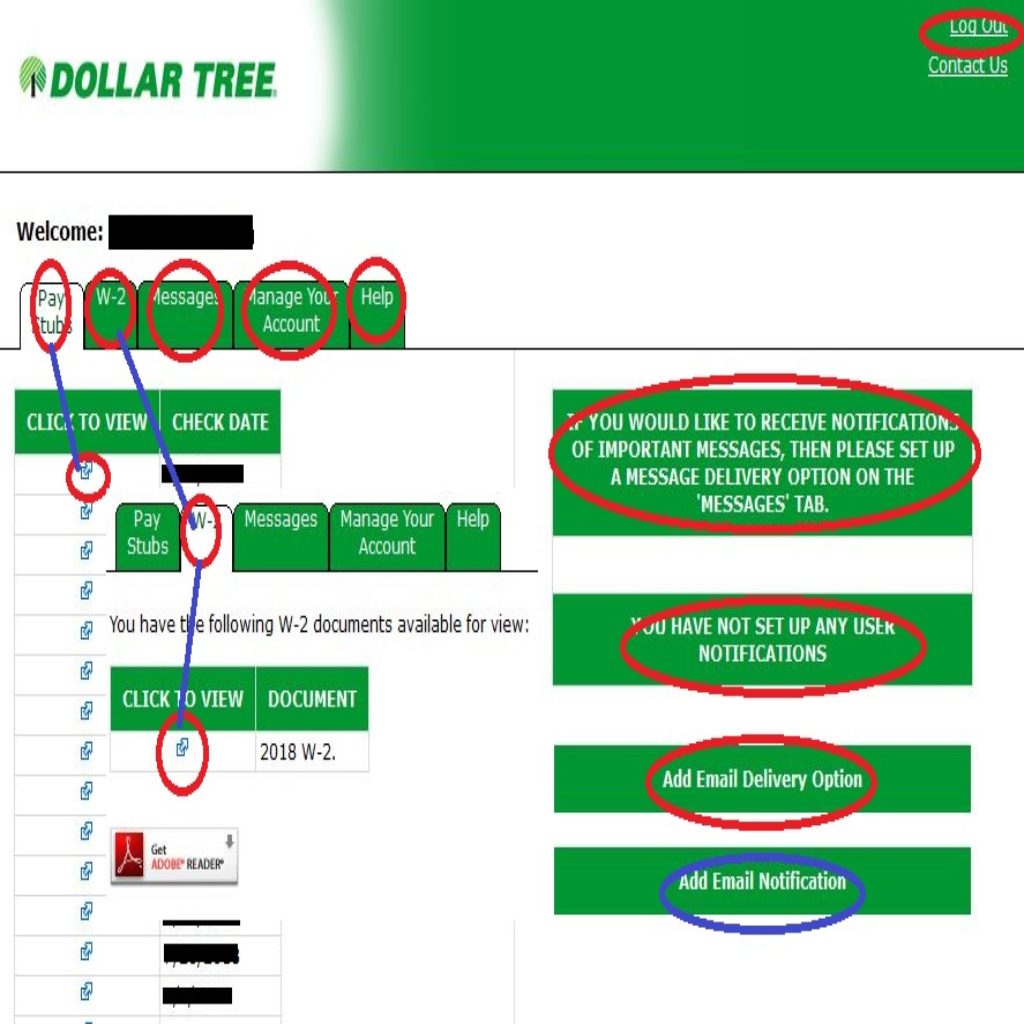 Access E-Forms Online
Paperless Employee is a web-based system to retrieve your E-Forms online. You can also manage your direct deposit account in the system. To access the system-
In your internet web browser, type https://www.paperlessemployee.com/Dollartree
Log in with your User ID and password. If you are new to this system, you need to create an account.
Click on the Create Account button to begin the registration process.
Authenticate your account with an Employee ID, SSN, and your first name's first three letters.
Enter your name, establish a user ID and password in this step, and click on Create Account.
Select and provide the answer to three security questions. Click on Save Security Questions.
Enter your email address and phone number, validate both an email address and phone number, and click on the Save Notification Option setting.
Now login with your new user ID and password and view your E-Forms from anywhere and anytime.
Account Unlock: If your account has been locked due to suspicious activity, you must email paystub@dollartree.com to unlock your account.
REFERENCE
my.doculivery.com/DollarTree
paperlessemployee.com/Dollartree