Dear employees of Convergys Corporation, You already know that your company has joined with Concentrix On 5th October 2018 and now running their business jointly under the name of Concentrix Corporation. Still, Convergys Corporation has not removed the Employees from ADP for providing the pay stubs and w2 statements. And Concentrix was already distributing pay stubs & W2 statements through the ADP portal for the current employees and the Workday portal for the former employees. Some of you are using this advantage already, and many of you feel embarrassed to use it, especially new employees who are getting recruited. I have arranged this article not to face any problem with receiving your pay stubs and w2 statements.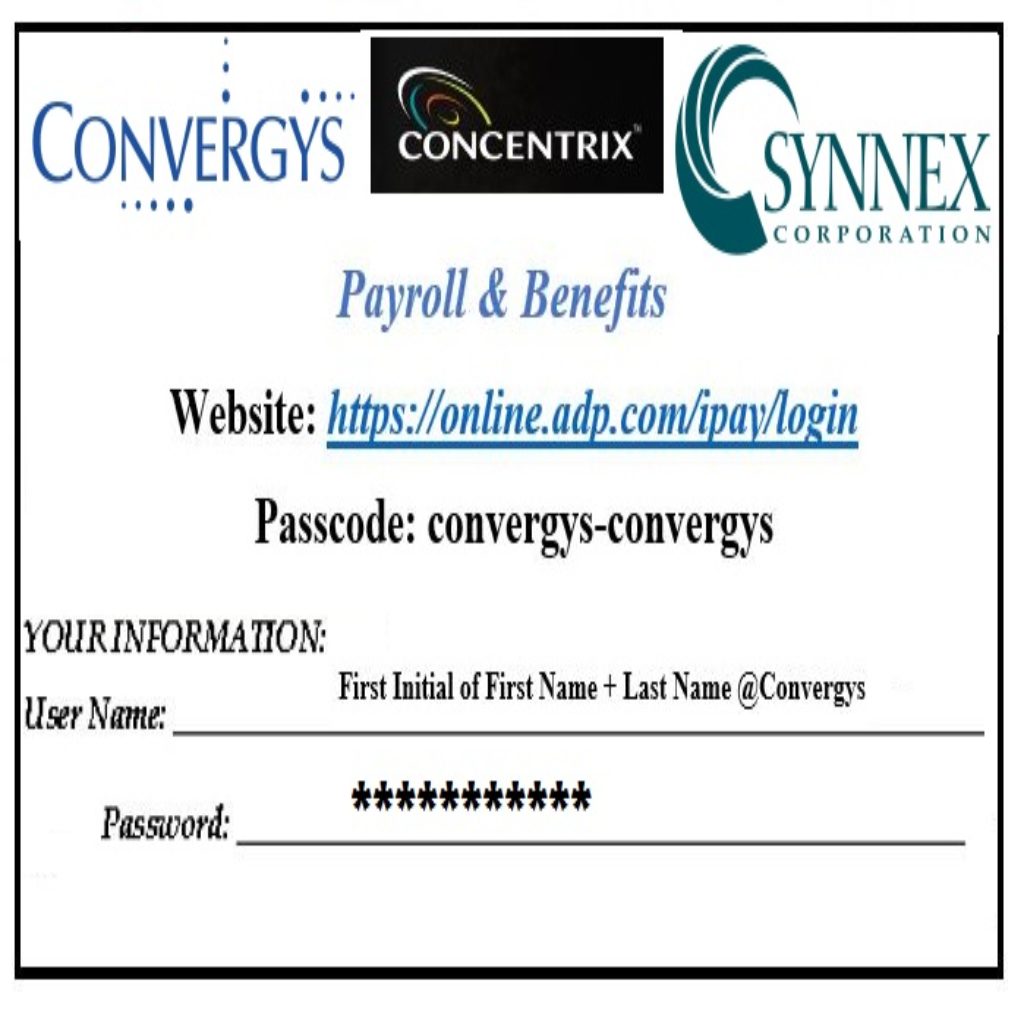 How to login?
You can log in to ADP iPay Service at https://online.adp.com/ipay/login through a network-connected device with providing your login credentials like User ID and Password.
Forget User ID/ Password?
Can you retrieve your forgotten User Id or Password with Forger your ID/ Password? The option below the login section from the login page following proper steps according to the system's instructions.
New user?
If you are a new user or you do not have a User ID and Password, then you have to create an account by completing the registration process, and then you will have your login credentials as User Id and Password for logging into this system.
Registration process:
Click on the REGISTER NOW button from the login page below the login section.
Provide your Registration code or passcode as convergys-convergys. NB: Passcode is case sensitive. So, be careful at the time of inputting this passcode.
Follow, Enter information option and provide First Name, Last Name, Employee ID, Birth month, and day and then click continue. Now, follow the system instructions properly and provide information correctly if the system wants any more information.
There is another option as you can import and verify your information if you account for Capital One. For this case, click on Send verified info from the capital one account option and sign in to the capital one account.
Now create your unique User ID and Set a strong password. Your User ID format is First Initial of First Name + Last Name @Convergys.
Then you will be provided some security questions and answer three questions selecting from a drop-down list.
Then you may be prompted to read the terms and conditions and select I agree checkbox.
By clicking on the Register button, you can complete the registration process.
In the end, you have to provide contact information and activate contact devices with phone numbers and Email verification.
Now you can easily log in to ADP iPay service with your User Id and Password.
RESOURCE
Disclaimer: Concentrix and the Concentrix logo are the registered trademarks and copyrighted work of the Concentrix Corporation.