Dear employees of Burger King Corporation, I'm going to inform you that you can access your pay and tax information from the Ultipro self-service website. It is easy and convenient, and you do not have to waste time in the hours, just enough for 5 minutes. However, employees are already registered for this web system- you have only to use the following login credentials, as seen in this image. You can also print this image as a card to write your username and password information. If you are an employee of another franchisee, you can go to our Burger King Index page to get your franchisee payroll (pay stubs) and taxes related information. If you are ready to log in now- follow the following directions-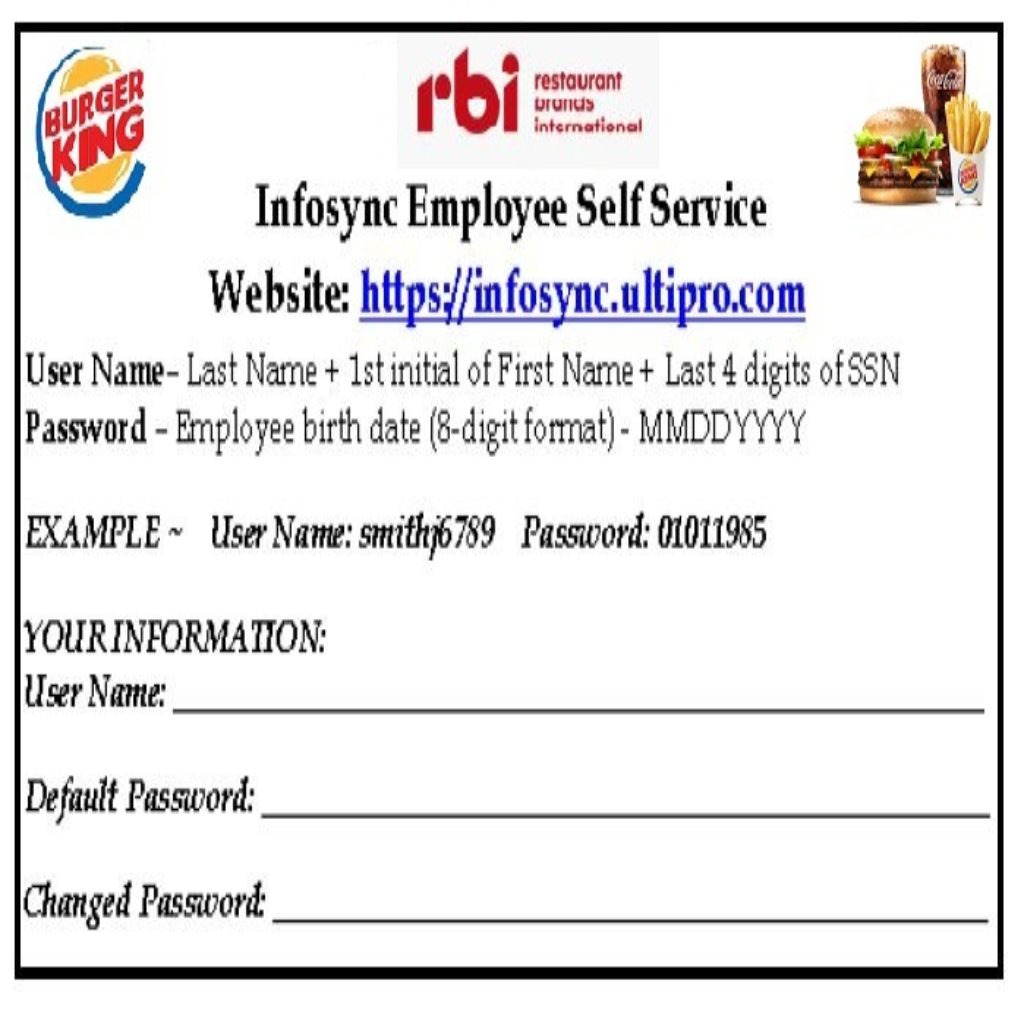 Ultipro Login information-
To access your Ultipro employee self-service, go to https://infosync.ultipro.com.
Log in with your username and password. The user name is your last name + 1st initial of your first name + the last four digits of your SSN, for example, smithj6789, and the default password date of birth in MMDDYYYY format.
If you log in with the default password, you will be required to complete two more steps to access your account-
Change password- to change the default password, enter your default password, and enter a new password twice.
Setup security questions- the answers you provide will be used to reset your password.
Consent for Electronic Delivery-
To consent for electronic delivery, click "Form W-2 Wage and Tax Statement Consent" under Things I Can Do. Then select the checkbox "Go Paperless! I consent to receive my Form W-2 electronically" and then click on the Save button.
View Pay Stubs-
Click on the current pay statement under the MYSELF menu, this will show the recent pay statements, and you click on the Print button to print it out.
View W2 Forms-
Click W-2 under the MYSELF menu, then select a year you wish to view. This will view your W-2 form for the selected year, and you can click on the print button to print it off.
RESOURCE