Toms King is a franchisee of Burger King, owned and operating more than 100 burger king restaurants with 3000+ employees. Even it is now one of the top ten largest franchisees of Burger King. However, if you are one of them- there is an employee self-service website available through Ultipro where you can access your pay stubs and W2 Forms. Not only will you be able to access these documents, but you will also be able to view and change your contact information, tax withholding information, direct deposit information, and much more.
There is a common problem for those employees who sign up for the first time. Because everyone is required to consent to electronic delivery; otherwise, they will receive a paper copy of pay stubs and tax statements as per their election. Therefore, if you do not consent to receive your pay statement and W2 Forms electronically, you will receive a paper Form W-2 and pay statements. The consent applies to all Forms W-2 and W-2C issued after permission is given and will remain until consent is withdrawn by changing your election. You may withdraw consent to online delivery by changing your selection to obtain a paper copy.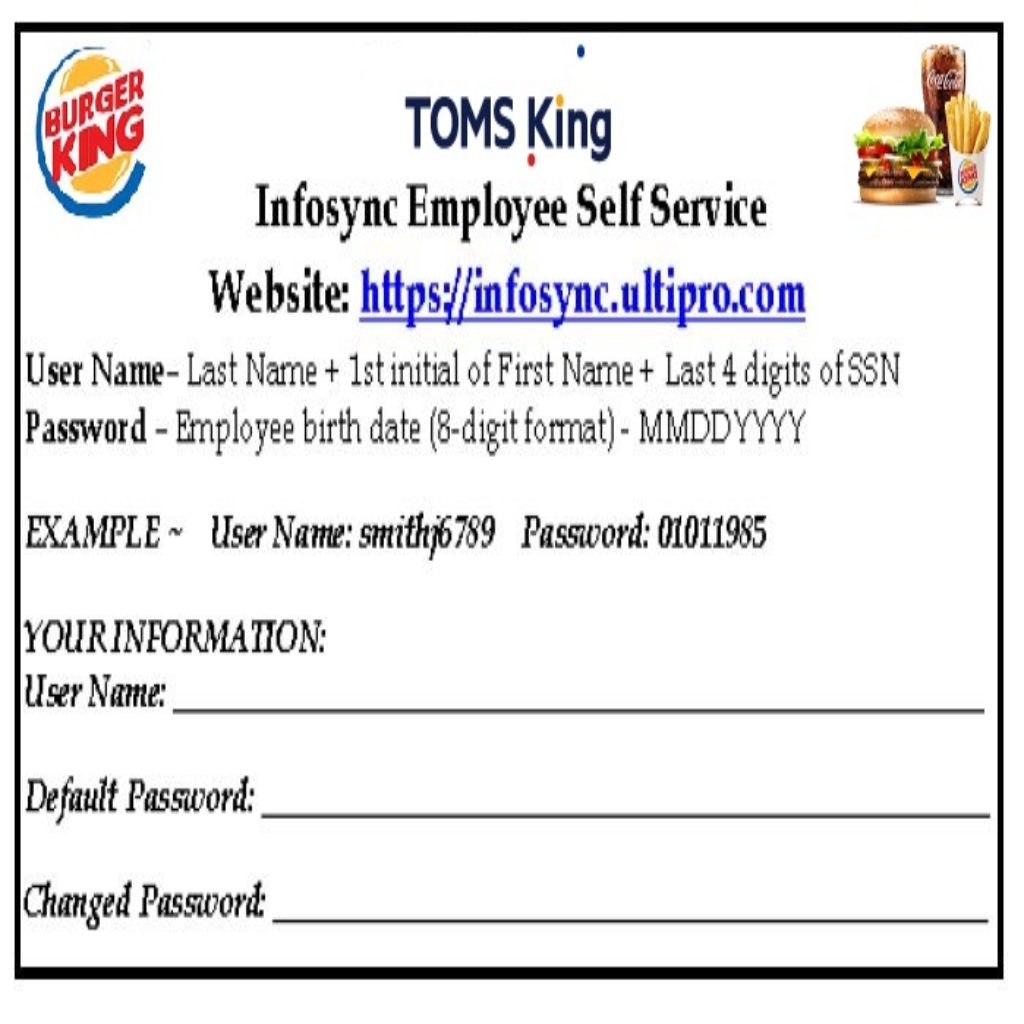 Log into the Ultipro system-
To access your Ultipro / Infosync employee self-service account, go to https://infosync.ultipro.com.
Log in with your username and password. The user name is your last name + 1st initial of your first name + the last four digits of your SSN, for example, smithj6789, and the default password date of birth in MMDDYYYY format.
If you log in with the default password, you will be required to complete two more steps to access your account-
Change password- to change the default password, enter your default password, and enter a new password twice.
Setup security questions- the answers you provide will be used to reset your password.
Consent for Electronic Delivery-
To consent for electronic delivery, click "Form W-2 Wage and Tax Statement Consent" under Things I Can Do. Then select the checkbox "Go Paperless! I consent to receive my Form W-2 electronically" and then click on the Save button.
View Pay Statements-
Click on the current pay statement under the MYSELF menu, this will show the recent pay statements, and you click on the Print button to print it out.
View W2 Forms-
Click W-2 under the MYSELF menu, then select a year you wish to view. The following screen will show the W-2 form for the chosen year; you can click the print button to print it off.
RESOURCE