Papa John's Team Members; PAPALINK is an oracle self-service portal to access your administrative tasks regarding payroll information (pay stubs, w2s) and other benefits data. It is a part of Papa John's HR/payroll office. Therefore, as a team member of Papa John's, you can use the PAPALINK to access your payroll and tax information.
Benefits of PAPALINK-
PAPALINK online system has real-time data at your fingertips anytime and anywhere.
Updating/ changing your personal information- your personal information is already in the PAPALINK system. You can add or update your personal information at any time.
Pay Statements- Team members can use this system to display their current and historical pay statements. The pay statements are in PDF format and can be printed as PDFs.
Tax statements- Team members can also use this system to access their year-end tax statements and request correction/reprint. For any assistance regarding your W-2, call (502) 261-4540. According to the payroll office, team members' Form W-2s will be mailed to their home addresses by January 31st each calendar year.
For more information, contact the corporate support center at support@papjohns.com or 502-261-4957.
Getting Started:
As previously stated, you must have a user ID and password to log into PAPALINK. You will have to change your password periodically. If you are a newly hired employee, your user ID and password to log into PAPALINK will be provided during orientation. User ID will never change, and the password is temporary; you will be prompted to change your password and set up security questions at first-time login.
Log onto the PAPALINK team member self-service website at www.papalink.net
Enter your user ID and password and press Enter or click on the Sign In button.
If you are new to Papa Link, you can log in with your employee ID as a user ID and your birthday month plus birthday day plus the last five digits of your SSN (MMDD99999) as a temporary password. After logging in with a temporary password, you will see the password has expired message, click on Change password. The new password should be 12 characters in length and contains a particular character, an upper case and lower case letter, and a number. Once changed, go to the home page and log in with a new password.
PAPALINK home page will display.
Click on the "My HR" tab, then Pay Details under the Team Member Direct Access area.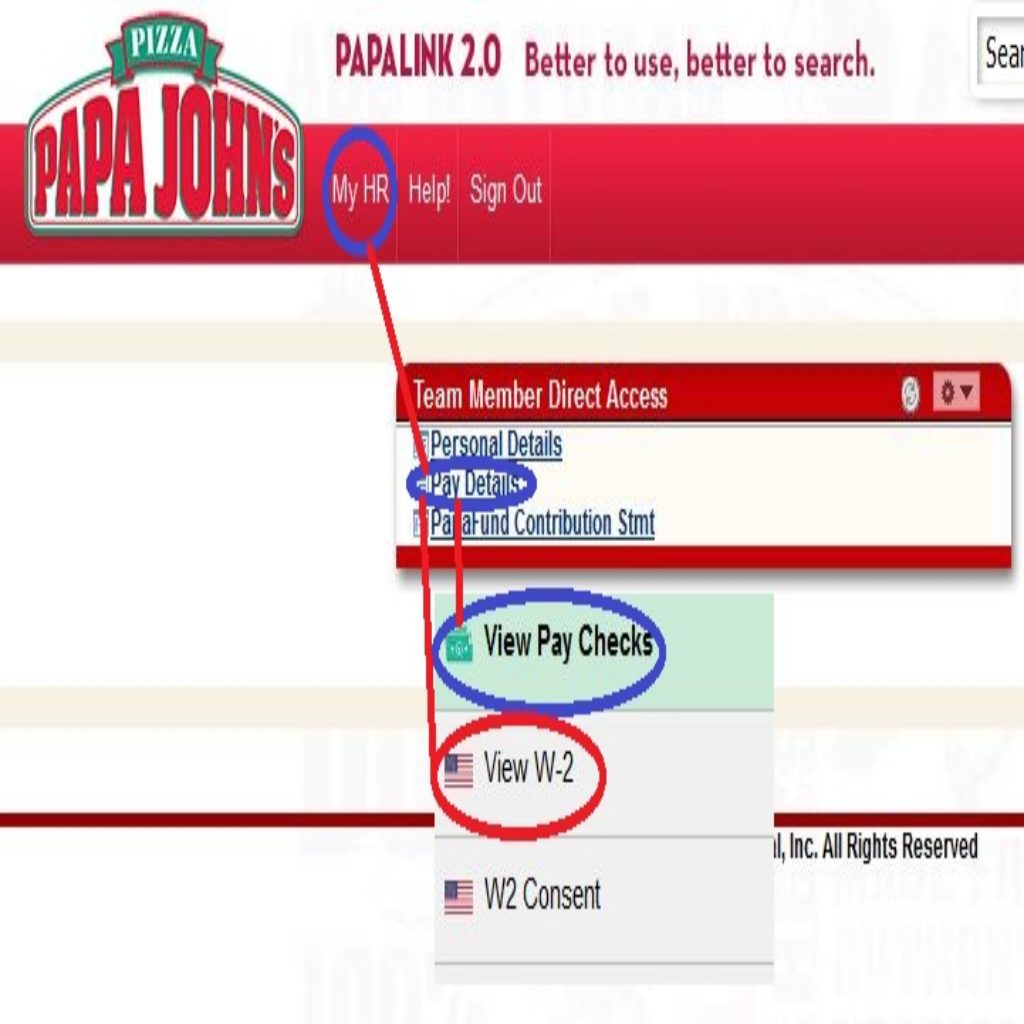 View Pay Stubs
Click "View Pay Checks" from the left-hand side menu to view pay Stubs. It will show you a list of available pay stubs arranged by Check Date. Click on a check date row to view your pay stubs—[Note: you must have enabled the cookies for this website to view your paychecks]. Click on Printer Icon to print it out.
View W2s
To view your W-2 statement, click on "View W-2" from the left-hand side menu of the Pay Details window. The current year-end statement will be present in the next window. Click on the "Year-End Form" link to view your W2. If you want to view the different year's tax statements differently, click "View a Different Tax Year" and select your tax year. Click on the Printer icon to print it out in the next window—[Note: you must have enabled the cookies for this website to view your W2 statements]. For more information about your W2, call 502-261-4540.
REFERENCE