The Inter-Con Security Systems, Inc. is a multinational private security company was established in 1973 by a retired officer of LAPD (Los Angeles Police Department) detective branch and started the business by providing security services to NASA. And now, this is the security matters to everywhere and providing security services in North and South America, Africa and Europe. This Company provides extensive security services to government agencies, private organizations, and individuals in more than 20 countries on four continents. All the Employees are associated with this company are distributed their pay stubs, w2 statements, benefits and other information via UltiPro payroll portal of Ultimate Software.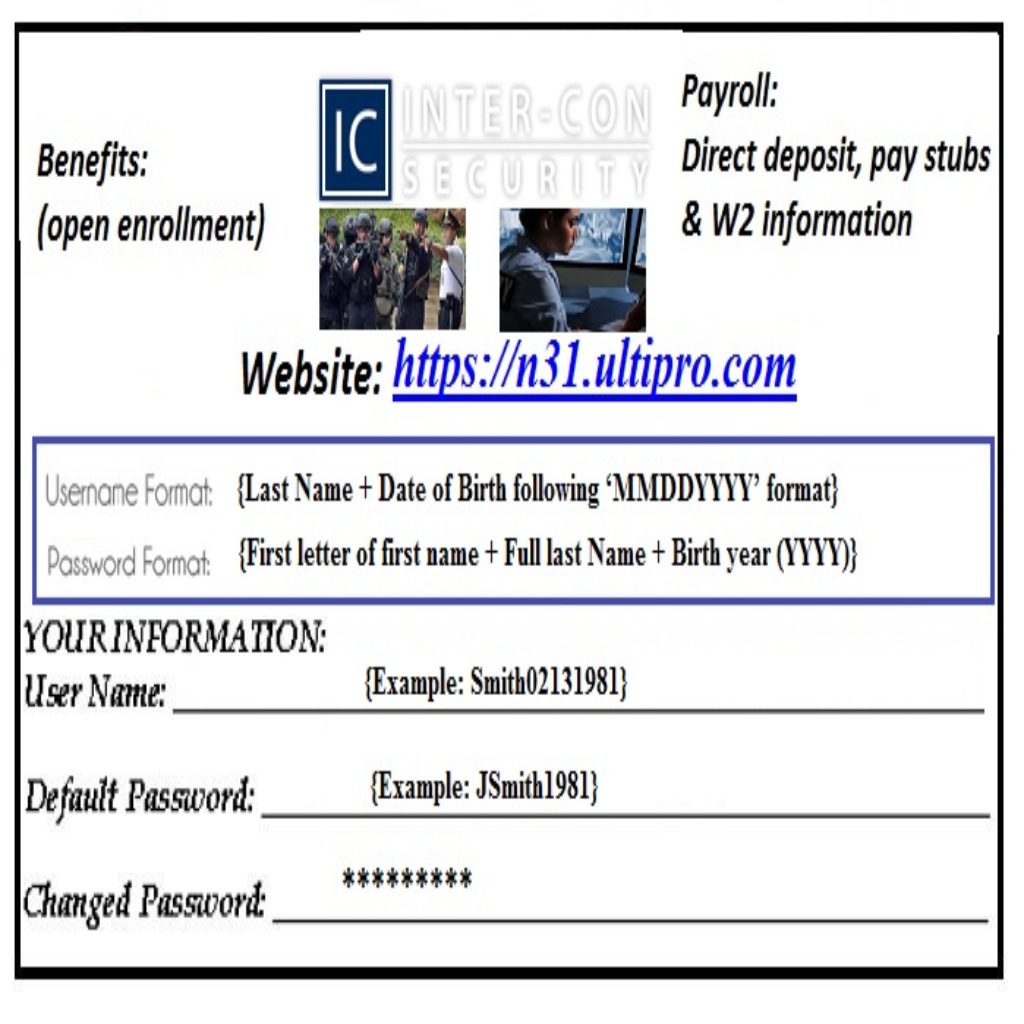 Getting access to UltiPro payroll portal
For old users:
Old users can get access to the documents and information on this portal at https://n31.ultipro.com through logging in simply with providing the log in credentials as User Name and Password. After logging in successfully, users can view, print or download the pay stubs and w2 statements as well as can control all personal and contact information.
For New or First Time Users:
First, go to the log in page of UltiPro payroll portal with the portal URL: https://n31.ultipro.com.
Then, you complete your initial login and for this matter you have to provide a Username and a Password which is Initial or Default Password.
User Name: Last Name + Date of Birth following 'MMDDYYYY' format (First Letter of last name must be upper case letter). Example: Smith02131981.
Default Password: First letter of first name + Full last Name + Birth year (YYYY) (First letter of first name and first letter of last name must be upper case letter). Example: JSmith1981.
Now, your default password. You will get the password changing screen automatically. There are Password requirements on the screen.
Select three challenge questions from drop down list and answer them cautiously because, system may asked for security reason to verify your account at any time.
Finally, the personal UltiPro Screen will be appeared. You will get your name and job title on the screen. You will also get personal information, Documents, Company information, Job Summary and payment related information like Current Pay Statements, Pay History, Direct Deposit, Income Tax, W-2 etc. under Menu option located on the left top of the screen.
From now, you have to provide your User Name and the changed Password for every log in attempt on this portal.
There is a link on the log in page as 'Forgot Your Password?'. You can retrieve your forgotten password with providing your User Name only for getting proper help or both User Name and Company access code for getting a password reset link. Your company access code is available on HR department.
RESOURCE
Disclaimer: The Inter-Con Security Systems and The Inter-Con Security Systems logo are the registered trademarks and copyrighted work of The Inter-Con Security Systems, Inc.