Ignite Restaurant Group is a portfolio of restaurant ideas. This company was established with a belief that a spark of inspiration can ignite innovative and productive concepts which can produce excellent outcomes. Joe's Crab Shack and Brick House Tavern + Tap restaurant concepts are the subsidiary companies of the Ignite Restaurant Group, Inc. All the Employees are working in the Ignite Restaurant Group, Inc. are provided their pay stubs, w2 statements and other benefits via InfoSync payroll service on UltiPro portal at https://infosync.ultipro.com.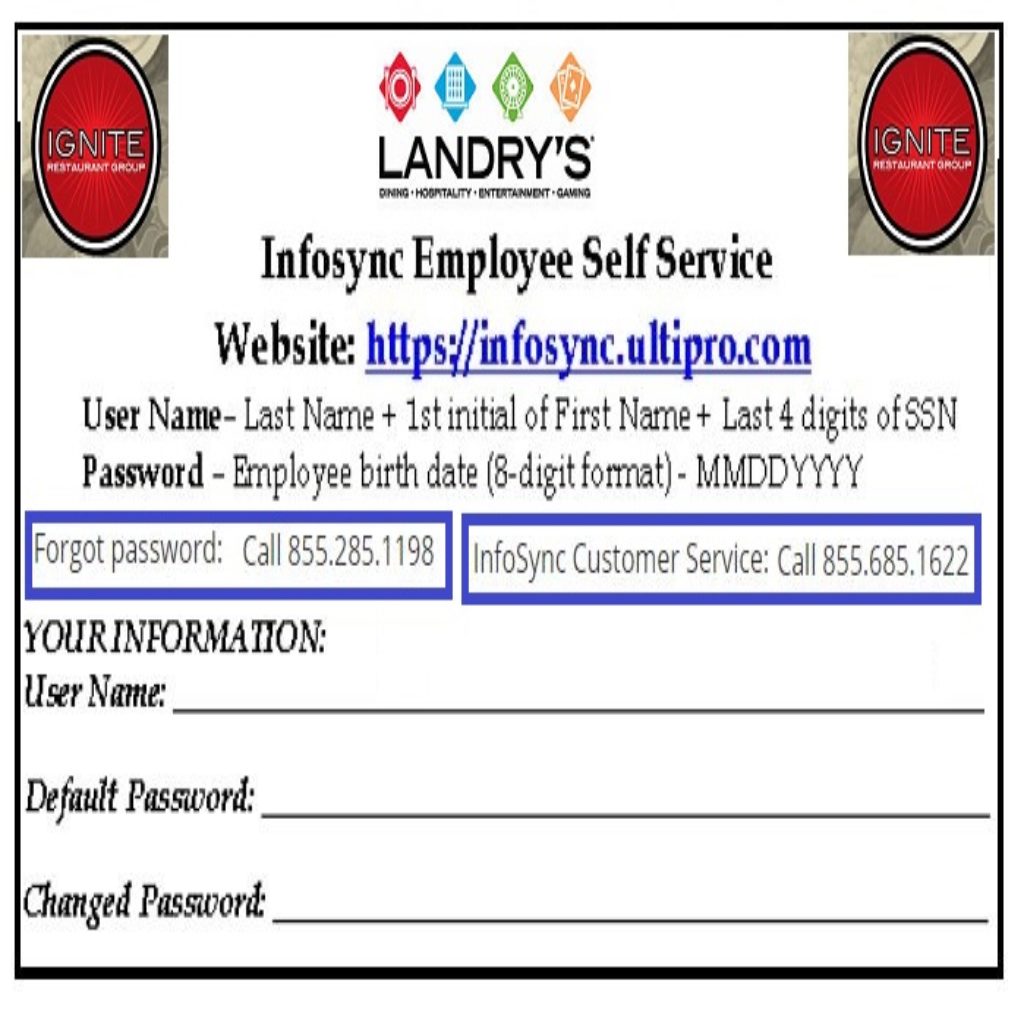 How to Login?
Visit the log in page of the portal with the link: https://infosync.ultipro.com with a network connected device. You can log in with providing your credentials as User Name and Password. After logging in successfully, you will be able to see the Dashboard or Personal UltiPro Screen on the display of your device where you can view, print or download your pay stubs and w2 statements along with can manage your personal information, contact information and other benefits also.
Initial Log in process for the First Time Users?
Visit the log in page of the portal with the link: https:// infosync.ultipro.com. Login with your User Name and Default Password.
Your User Name is your Last Name + First initial of your First Name + Last 4 digits of your SSN (Social Security Number). Suppose, you are James Anderson and your SSN is 12456789. So, your User Name will be andersonj6789. Your default or initial Password is your birthdate following 'mmddyyyy' format. Suppose, your birth date is 5 march, 1990 then your initial password is 03051990.
Change your Default Password from the appearing password changing screen. Requirements for the new password will be provided on the screen. You just follow the screen instructions properly.
Answer 3 challenge questions from the dropdown list for your security purpose.
Finally, the Dashboard or Personal UltiPro Screen will be appeared. You can get your desired information and documents with specific options and can view, download or print those documents from the Menu bar from the left-top of the screen.
Help
When you do not have access to the internet then you can call Infosync @ 1-855-685-1622. A customer service representative will help you to get or know about your W-2 statements.
Retrieve your Forgotten Password
You can reset or retrieve your forgotten password with the link as 'Forgot Your Password?' from the log in page. Provide your User Name for getting proper help for retrieving your password. You can get a password reset link with providing your both User Name and Company Access Code. (Please collect your company access code from your employer or HR office).
RESOURCE
Disclaimer: The Ignite Restaurant Group and The Ignite Restaurant Group's logo are the registered trademarks and copyrighted work of The Ignite Restaurant Group, Inc.